"My friends and I sat up all night playing super Mario, we were kids again. Great value for price, but keep in mind you're buying it for a fraction of the cost. Well worth it to us, we are having the best time laughing."----John M. Stash
CHRISTMAS SALE ENDS WITHIN 2 DAYS!
THE ULTIMATE PORTABLE GAME CONSOLE!
The New Retrostick comes pre-loaded with 10000+ Classic 8-Bit Games that you used to skip homework for!
Grab Yours Now, and kick it like 1988 with your family or friends!
Plug and play your favorite 8-bit games from back in the day. Retrostick 4K will 
inject nostalgic memories instantly and provide you with endless hours of fun!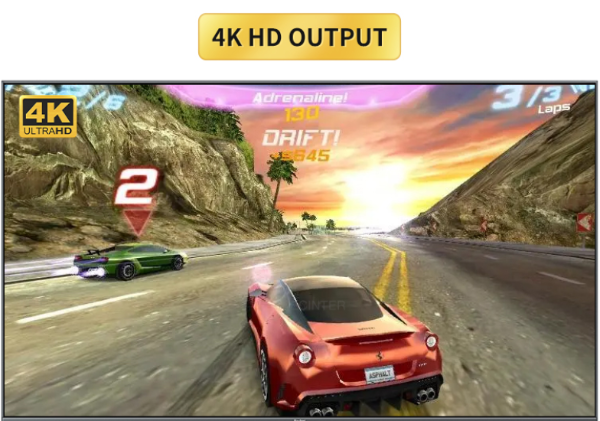 10000+ Games in an easy-to-navigate menu – All Unique!
HDMI connection for Big Screen Play
2 Wireless controllers 
Classic titles you spent hours playing when younger
Easy to transport to your friends' place or holidays – great for parties!
Everything from block-like controllers to the music will send you back to 1988 when real 'gaming' started to take place. 
THINGS WE UPGRADED ON 2.1 VERSION:
Save Your Game Progress Easily
Smooth Gameplay - No Lag!
Wireless Remotes that have Further Reach  – 10 meter / 32ft 
WHAT GAMES CAN I PLAY?
Plug and play 10000+ games of the very best NES Retro Classic Video Games,
and you won't be disappointed! 
REMEMBER THESE GAMES?
ZELDA 1 AND 2
TECMO BOWL
PUNCH OUT!
SUPER MARIO BROS 1, 2, 3
NINJA TURTLES 1, 2, 3
STREET FIGHTER 
MORTAL KOMBAT
RC PRO AM 1, 2
DOUBLE DRAGON 1, 2, 3
BLADES OF STEEL
METROID
METAL GEAR
CONTRA 1, 2, 3
CASTLEVANIA 1 AND 2
SUPER OFF-ROAD
PAPERBOY
PACMAN
EXCITEBIKE
MEGAMAN 1-6
NINJA GAIDEN 1, 2, 3
AND MANY MANY MORE…
Pick Your Favorite Retro Classic Game To Choose From...there Are Tons!
You Asked And We Delivered
The Ultimate All-in-one 8-bit Retro Game Console You Need!
Q&A
Q1: Does it require internet connection of any kind?
A1: Answer:Can be played without any internet connection
Q2: Question:Do you have the ability to save your progress?
A2:Answer:Yes, pressing select + start during gameplay brings up a menu to continue, exit, save, and load a game state.
Q3: Question:Does it have street fighter?
A3:Answer:Yes, there are multiple versions in it
Q4: Question:Does it have Commodore 64 Games?
A4: Answer:It has FC/ GB/ GBA/ GBC/ MD/ SFC games.
Limited

 
Sale-50%

 
off today only!
Delivery time:Worldwide standard shipping 7-15 days. We can reach every place in the world.
Returns>> Fast refund, 100% Guaranteed Refund.
99.3% of Reviewers Recommends This Product.
Email & SMS Tracking: You will receive order status updates via email & SMS messages.